The methods employed to increase your search engine rankings may seem like rocket science to you, so you have probably avoided dealing with this issue. I am here to tell you – the time has come to face your website!
A high search engine ranking for your website is so essential that if you have the slightest desire to actually succeed in your business, there is no way you can continue to avoid this issue.
At least 85% of people looking for goods and services on the Internet find websites through search engines such as Google, Yahoo, and MSN. The idea of optimizing your pages for high search engine rankings is to attract targeted customers to your site who will be more than likely to make a purchase.
Ensuring requested opt-in email is delivered to subscriber inboxes is an increasingly difficult battle in the age of spam filtering. Open and click thru response rates can be dramatically affected by as much as 20-30% due to incorrect spam filter classification. Here are a few email deliverability tips…
Permission
Confirming that the people who ask for your information have actually requested to be on your list is the number one step in the battle for deliverability. You should be using a process called confirmed opt-in or verified opt-in to send a unique link to the attempted subscriber when they request information. Before adding the person to your list they must click that unique link verifying that they are indeed the same person that owns the email address and requested to subscribe.
In this post I'm going to show you a few really cool lessons I've learned while building my subscriber list… a level that I think it genuinely attainable by any business.
1. Give subscribe instructions in your resource box (used to end articles). Give a brief 1 or 2 line description of the benefits of subscribing to your ezine. Give specific subscribe url or email addresses. Give both options if available.
2. Give subscribe instructions in your signature file. Have several well tested signature files handy. When you see a name that you don't recognize or don't think is a subscriber, use this signature file.
3. Ask others to recommend your publication on their "thank you" page. This is most often done on an exchange basis. That is, you recommend good ezines and they reciprocate on their site. This works great because someone who has just signed up for one is ezine is very inclined to subscribe to other similar ezines.
SUMMARY of blog sales machine story:
Call us cynics. Blogs may be hip and trendy, but they don't do diddly-squat for most people's businesses. After four years of research, MarketingSherpa reporters estimate only .03% of the 34.5 million existing blogs are driving sales or prospective customers to their bloggers. (That's less than 1,000 that we've been able to find.) Want your blog to be the one that works? Discover seven practical secrets from a real estate blog that gets prospects to raise their hands and beg to be contacted.
CHALLENGE: A little over two years ago, John Mudd quit his job in book publicity to try his hand at selling waterfront vacation homes worth an average $700,000 in Florida.
He quickly learned the Web was mission critical.
If you're starting or have just started, an Internet business then you're probably full of hope and confident that it'll succeed. After all, you have a solid business plan, right?
But so did other companies who've recently taken a turn for the worse. I'm not trying to scare you, but I want to highlight the history behind some of the failures and, more importantly, give you a few key tips in running your own Internet business.
But first, the history…
Suppose you produce a super widget that sells for $50.00. If Charlie comes along and says, "Hey, I can sell the heck out of these. How's $20 bucks a sale sound? Wanna deal?"
If you have a successful business, chances are you will say, "Sure thing." Smaller businesses or those lacking marketing experience may answer with, "Why should I give away 40%?"
Such people will run from this offer. But it is an awesome increased profits mistake. For readers who have not thought about this approach, here's why you should say yes.

Takeaway selling, for the uninitiated, is a way to limit the supply of a product or service in some way to increase scarcity of an offer. Because it's a proven fact that scarcity sells. It's the age ol' law of supply and demand. The less the supply, the greater the demand, as people don't know how much they want something until it's about to be taken away from them.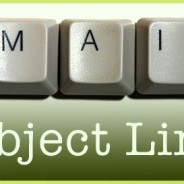 When prospects get your e-mail marketing message, they make a quick decision, usually in a couple of seconds, to open or delete it based largely on the email subject line. But given the glut of promotional e-mail today, how can you convince a busy prospect — in just a few words — that your message is worthy of attention?
The "4 U's" copywriting formula — which stands for urgent, unique, ultra-specific, and useful — can help.
Originally developed by my colleague Michael Masterson for writing more powerful headlines, the 4 U's formula works especially well with e-mail subject lines. I'll share it with you now.